Crawl Space Repair Cost in Lexington, Charleston, Georgetown & Johnson City Areas
Leaving crawl spaces unattended for a long time can cause structural damages to your home. An uninsulated crawl space can have excess moisture, which will over time, give birth to mold and attract insects.
Even if your crawl space is in relatively good condition, you should get it inspected once in a while. Many homeowners do not encapsulate their crawl spaces which in the long run, harms their property.
A properly encapsulated crawl space will not only keep the area warm but decrease your heating and cooling costs as well. At Reeds Waterproofing and Foundation Solutions, we provide all forms of services required for a healthy basement and crawl space.
Along with repairing crawl spaces, we waterproof basements, install sump pumps and provide moisture control service in Lexington, Charleston, Georgetown, or nearby areas.
Call us at 833-914-1113 or contact us online to know in detail about the estimates of our services.
Factors Determining the Costs of Crawl Space Repair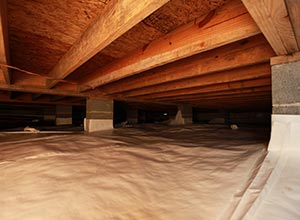 Every home is different, and the crawl space is no different. An estimation given over a phone call is only a rough estimate. It is best if we visit your home and come up with an estimation after a thorough inspection.
The repairing cost will depend on the overall condition of the space. The biggest determining factor is the size of the crawl space, the higher the square footage is, the higher the cost.
Along with the size, the condition of the space will also play a major role. Restoring a wet crawl space with sagging walls and no form of insulation will cost more than the ones with fewer leaks and existing insulation.
So call us at 833-914-1113 and describe the condition of your crawl space, we will give you an estimate of the costs.