Crawl Space Access Insulation in Lexington, Charleston, Georgetown & Johnson City Areas
If your home has a crawl space without an access door, you might want to install one as it will make your life easier. An access door will provide an entryway to the area below ground level. Hence, it will be easier access for maintenance work.
While an access door is useful, it is important to have it insulated to keep moisture away. As keeping crawl space dry and clean is important for a healthy living. A wet space will give birth to mold which will deteriorate the living condition of your home.
Reeds Waterproofing and Foundation Solutions specializes in restoring crawl spaces and basements.Dial 833-914-1113 or contact us online to know about our services in detail.
Our service area includes Charleston, Georgetown, and nearby cities and towns such as Frankfort, Ashland, and Paintsville.
Professional Access Insulation for Georgetown & Johnson City Homes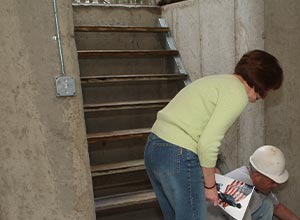 Our team has been transforming wet, moldy crawl spaces into clean, insulated ones'. After inspecting the condition of your space, we will give you an estimate. Once that has been decided, we move to the actual work.
First, we will let you decide if you want the crawl space access door to be placed inside or outside of your property. We suggest you choose the interior door as it will not have to endure extreme weather like hailstorms and heavy rainfall.
If there is standing water in the crawl space, we will pump it out and repair visible leaks and cracks. After that, we will seal all the vents, insulate the access doors and windows to keep the area moisture-free. Lastly, we will install professional dehumidifiers for proper air circulation.
Most of the moisture comes in through the access doors, we make sure it is insulated with professional foaming materials that can endure heavy rain or hail storms.
An encapsulated and deodorized crawl space will make sure the environment of your home is safe and healthy. Also, clean space can be amazing storage space and the access door will just make everything better!
So, call us at 833-914-1113 if you want a crawl space access door installed.