Crawl Space Repair in the Lexington, Charleston, Georgetown & Johnson City Areas
If you have issues such as drywall cracks in the interior, uneven floors, foul odors, mold, mildew, heightened allergies or asthma symptoms, you may have an issue in your crawlspace. If you spot any of these problems, it's important to find the source of the problem and get it taken care of right away. If not, the problem will escalate and cause many unnecessary repairs in the long run.
Encapsulated Crawlspace
We can create a healthier living space, lowering utility bills while adding additional dry storage space. Our solutions include warranted and patented products that are state-of-the-art for drying, sealing and waterproofing your crawlspace.
Crawl Space Conversions
Want to add living space without the substantial expense of an addition or adding another story while still making a superior return on your investment? Unlike an addition or adding a second story to your home, crawlspace conversions come at no cost for new roofing, siding or exterior painting when the conversion is finished. Crawlspace conversion creates minimal disturbance in your home, so your family will not be disrupted from their routine by having to move out during the construction of your new space.
If you're having problems with your crawlspace, Reeds Waterproofing can take care of you. We have the right products and the experience to help you find the right solution, no matter the issue.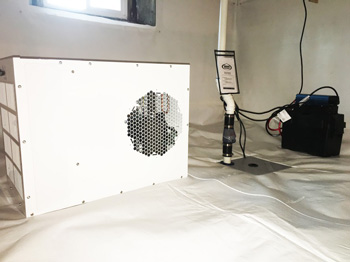 Crawl space outfitted with encapsulation system, dehumidification system, and drainage system.
Crawl Space Problems and Their Solutions
At Reeds Waterproofing & Foundation Solutions, we help our customers in Kentucky, West Virginia and Ohio, Tennessee by getting to the root of the problem.
Crawl Space Drainage System - If there are issues with standing water, we begin by installing a drainage system installed prior to the encapsulation process. We then run this drainage system into our GrateSump™ liner and install a sump pump to remove the water from the crawl space.
DimpleShield Drainage Matting - A dimpled plastic material used on high footings or concrete floor to assist with crawl space drainage issues.
Crawl Space Vent Covers - Most crawl spaces have been vented due to antiquated building codes. We now know that venting a crawl space creates big problems and it's necessary to seal any vents or areas where outside air can get in. We have patented crawl space vent covers to repair this issue.
CrawlShield™ Encapsulation System - To complete the process of sealing the crawl space, we install a patented crawl space encapsulation system to completely eliminate vapors and odors rising from the ground; creating a layer of protection between the dirt floor and your living space which also helps in lowering your home's heating bills while making the living space more comfortable.
Crawl Space Dehumidification System - After the area is sealed, the moisture level will need to be controlled and brought down to a relative humidity below 50%, using our high-efficiency dehumidification systems.
Contact Reeds Waterproofing and Foundation Solutions for Crawl Space Repair Near Lexington, Charleston, Georgetown & Johnson City
If you are in need of work on your crawl space, call 833-914-1113 or complete our contact form and one of our team members will be happy to schedule a time for your estimate.
In addition to Lexington, we also service Charleston, Georgetown, Johnson City, and nearby cities and towns such as Frankfort, Ashland, Richmond, Huntington, Paintsville, Mt. Sterling, Barboursville, and surrounding Kentucky, West Virginia and Ohio, Tennessee. We are your basement & crawl space, and sump pump repair contractor.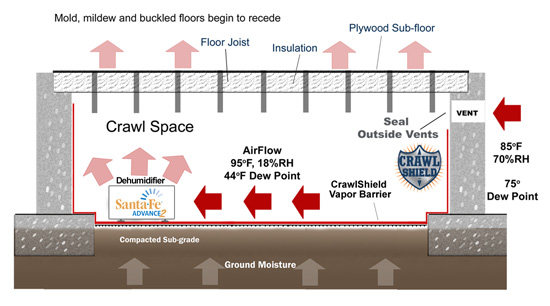 Frequently Asked Questions
What signs are there that my crawl space needs repair?
You may need to have your crawl space repaired if you notice sagging floors or uneven floors, musty smells, high humidity, visible mold growth, and other signs. It is important to have your crawlspace inspected by professionals if you see any of these signs.