Basement Waterproofing in the Lexington, Charleston, Georgetown & Johnson City Areas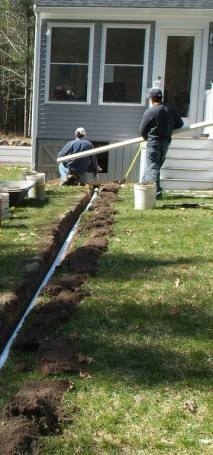 A wet basement can cause many problems, including foundation damage, structural damage, mold, mildew and foul odors. Water leaking into your unfinished or, even worse, finished basement can be quite the disaster and can become a very stressful issue. Some leaks are small and can be fixed in a simple do-it-yourself project. Other, larger leaks, however, will require an experienced professional to do the job.
Reeds Waterproofing & Foundation Solutions deals with water problems in Lexington, Charleston, Georgetown, & Johnson City ranging from unfinished, damp basements all the way to flooded, finished basements. Waterproofing your basement or crawlspace is only half the solution. We correct the drainage and water flow problems contributing to water leaks and dampness. We provide complete waterproofing systems, both inside and outside of your home. Whether you plan to finish your basement or just simply use it as a storage area, it needs a quality waterproofing system.
A basement that is even the slightest bit wet is unsuitable for finishing or even storage. Moisture can get into the building materials and cause mold, mildew, odor and damage to furniture and personal storage items. Problems such as these do not get better over time; they only become progressively worse. So, even if your basement leaks just a little bit (maybe only once a year or even once every couple of years), it needs to be fixed. The dampness will increase over time.
Contact Us for Basement Waterproofing Near Lexington, Charleston, Georgetown & Johnson City
Looking for a price for our basement waterproofing systems? To get a no-cost, no-obligation quote, please fill out the contact form or call us at 833-914-1113.
In addition to Lexington, we also service Charleston, Georgetown, Johnson City, and nearby cities and towns such as Frankfort, Ashland, Richmond, Huntington, Paintsville, Mt. Sterling, Barboursville, and surrounding Kentucky, West Virginia and Ohio, Tennessee. We are your basement & crawl space, and sump pump repair contractor.
Frequently Asked Questions
What are some signs that basement waterproofing is needed?
Basement waterproofing can be required for several reasons. These include water stains on walls and floors, musty smells, dampness, humidity, cracks in the foundation, or moisture. A professional waterproofing company should inspect your basement for any of these signs.