Crawl Space Encapsulation in Lexington, Charleston, Georgetown & Johnson City Areas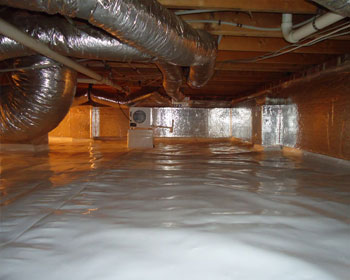 You might think a damp crawl space is no big deal as it is far away from your living area. But a moist crawl space can harm you massively. Firstly, it will thrive mold spores and mites destroying the contents stored in that space, secondly, it will deteriorate the air quality of your home triggering allergies and other respiratory issues.
So, encapsulating a wet crawl space is necessary. If you reside in Lexington, Charleston, Georgetown, or nearby areas, Reeds Waterproofing and Foundation Solutions can help.
Contact us at 833-914-1113 for encapsulating your crawl space. Or click here if you want an estimate of our services first.
Benefits of an Encapsulated Crawl Space in Georgetown & Johnson City
We will install a sump pump to pump out water from the crawl space, using our patented GrateSump™. Then we will inspect the cause of the moisture, whether it is from a floor crack or a wall leak, we will get to the bottom of the issue and fix it. 
If there is a leak on the floor, our dimpleShield drainage matting will be applied to repair it. It is a dimpled plastic material used on floors to mitigate drainage issues. And if the problem is with wall cracks, we will seal any exposed areas or vents to make sure your crawl spaced is protected from future leakages.
Lastly, we will encapsulate the space installing our patented crawl space encapsulation system and dehumidifier. The encapsulation system will make sure heavy storms and rains do not harm your crawl space and the dehumidifier will control the moisture level.
When Should You Encapsulate Your Crawl Space?
Rotting of wooden contents
Efflorescence on walls
A feeling of dampness in the living area
Worsened allergic reactions
Unpleasant odors
Paints peeling off
Pools of water after rain
If you face these above problems then it is high time to get the encapsulation done. Call Reeds at 833-914-1113 for fixing your crawl space. We also provide basement waterproofing and moisture control services.