Basement Drainage Systems Near Lexington, Charleston, Georgetown & Johnson City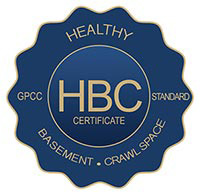 The best way to waterproof a wet basement is to have a full-perimeter drainage system installed in your basement.
We provide homeowners with a custom-designed drainage system to suit their home specifically. Installation is quick and efficient with our experienced crews completing most waterproofing system in less than two days.
After installation, your home is awarded its healthy basement certification as well as a fully transferable lifetime warranty.
Recommended Drainage Systems
At Reeds Waterproofing and Foundation Solutions, we offer a wide range of basement waterproofing products and drainage systems that will surely protect your home. Our experienced project managers will custom design a perimeter drainage system to suit your basement specifically.
We also offer three types of sump pump systems, which are:
The GrateSump™
The GrateSump™ Plus
The Grate Sump™ Plus II
Battery packs are also available for purchase.
Contact Reeds Waterproofing & Foundation Solutions for Basement Drainage Systems Near Lexington, Charleston, Georgetown, Johnson City & Surrounding Areas
Looking for a price? Get a no cost, no obligation fill the form for free estimate or call us at: 833-914-1113.
In addition to Lexington, we also service Charleston, Georgetown, Johnson City, and nearby cities and towns such as Frankfort, Ashland, Richmond, Huntington, Paintsville, Mt. Sterling, Barboursville, and surrounding Kentucky, West Virginia, and Ohio, Tennessee. We are your basement & crawl space, and sump pump repair contractor.