GrateSump™
Reed's Waterproofing & Foundation Solutions is a locally owned and operated business providing successful basement restoration services at an affordable price in Lexington, Charleston, and Georgetown areas. We have been proudly serving our happy customers since 1985. Being specialized in waterproofing services make us the best in the area.
Our restoration technicians are trained, certified, and use state-of-the-art equipment for perfect results. We are also an affiliated GrateSump™ contractor, Grate Products have been leading the waterproofing industry for years and their product feedback has been constantly high throughout.
Call us at 833-914-1113 and we will help you with more information.
Fixing Damp Basements with Grate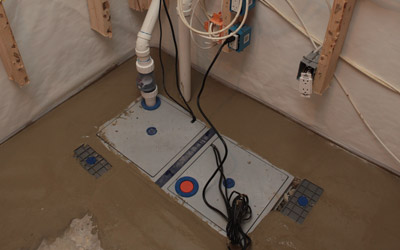 Why do we highly talk about Grate products? Their sump pumps are undoubtedly the most effective because the pump liner has large punched holes that allow groundwater to easily enter and to be pumped out of a basement. It also has a built-in pump stand that keeps dirt away from the sump pump impeller. We always suggest adding battery backup protection to our FastSump by upgrading to the GrateSump™ Plus or GrateSump™ Plus ll to protect your home during heavy storms as it can lead to power outages.
We recommend GrateSump™ pump liner with our FastSump as the combination can direct water away from the foundation of your home faster. Reeds have specially requested Grate products to design and built the FastSump pump according to our specifications, and it has been tested by our service department for over three years before it was launched to the public.
Contact Reeds for an Effective Solution
We have trained our employees and worked with Grate Products to design the most efficient basement solution for our customers in Charleston and Georgetown.
Call us to fix your flooded basement today!